Matt Bacaks Internet Goldrush Redux in Singapore with Fabian Lim Results in Second Fire Marshal Alert
Singaporeans officially cant get enough of Matt Bacak and his Internet marketing know-how. For the second time in a row, they stormed one of his Internet Goldrush training sessions, filling the room to over-capacity.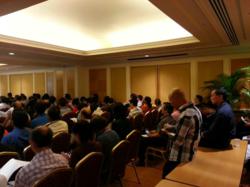 Duluth GA (PRWEB) May 09, 2013
Matt Bacak is on a sellout streak since returning to the public-speaking circuit. An over-capacity crowd at his second Internet Goldrush training session in Singapore this week marked two for two with respect to the Singaporean fire marshals needing to be alerted. The May 7th repeat performance, during which Matt Bacak teamed up with Singapores well-respected marketer and promoter Fabian Lam, resulted in would-be attendees once again being an over packed event.
Given that the BacakLam educational seminar was a spur-of-the-moment decision, there is no telling just how out of control the crowds may have gotten had they been given more advance notice. Bacak and Lam, longtime friends and colleagues, bumped into each other while Bacak was in Singapore working one on one with his new Internet Goldrush clients and decided on an impromptu joining of forces. Lim even offered up his own office as the venue for the event, never dreaming how big the turnout would be.
We did it again, says Bacak of the overflowing audience. The success of the initial Internet Goldrush alerted us that we should be prepared for crowds, but even we couldnt have imagined that there would be this much of an outpouring of interest. We rocked it, he enthuses.
Despite his long-term Internet marketing success, it still amazes Bacak how many people actually show up every time he does one of these gigs. He speculates the draw comes from the fact that he doesnt sugar-coat matters. I tell them the truth and the way things really are when it comes to making money on the Internet. Giving people tough love about why they are failing online hurts, but it also rings true in their ears. They respect me all the more for my honesty.
Each time Bacak pulls off a sellout coup like this one, rumors start swirling again about how well hes doing. As a result, hes finding the speaking offers pouring in from all over the world. For the time being, however, it looks like Southeast Asia is where his heart is set.
Ive always loved Singapore. I cant wait to come back and do another one. As soon as my schedule and my wife allow, Ill return, Bacak quips. And it looks like he might be getting his wish in the very near future. Thats because Fabian Lam has asked Bacak to work with him long term. Fabian wants me to do not only Singapore with him but also Malaysia. And Im highly considering it after seeing how well he did getting people to come to this event, Bacak tantalizes.
For more information on Bacaks upcoming speaking schedule, visit http://mattbacak.com. To book Matt to speak at an upcoming event, simply contact his agent at http://gailkingsbury.com/contact.
Partner Blogroll from InfinityAds in reference to Bet365 –
Bet365


Comments