Back to Basics: The Urban Music & Entertainment Summit 2014 Comes to San Diego, CA, May 1-4, 2014
Music Industry Professionals, both seasoned and aspiring, will be attending Back to Basics: The Music & Entertainment Summit, hosted by Urban Network Digital and Amalgamation Magazine: An Industry Quarterly; two of the industrys leading trade-consumer publications.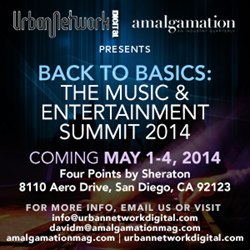 (PRWEB) March 04, 2014
After a five-year absence, The Urban Network brand returns for a three-day Music-Entertainment Summit, scheduled May 1-4, 2014, at the San Diego Conference Center of the Four Points by Sheraton, 8110 Aero Drive, San Diego, Calif., 92123. Early Bird Registration is a very affordable $ 100 for the entire Summit. Hotel guest rooms at the Four Points by Sheraton are $ 129 per night.
There has been a long tradition of successful Urban Network Music Conferences since the late 80s, throughout the 90s and for the entire first decade of the 2000s. In the midst of so many changes that have occurred since our last conference (2009), we decided to theme this years Summit, Back to Basics, says David Mitchell, Amalgamation Mag Publisher. We have more than a dozen seminar panel sessions, discussing topics such as digital strategies, navigating social media, alternative music brands, and licensing ones music for TV, Film and Digital platforms. Were also going to host 90 minute-long panel discussions on the States of Hip-Hop, Gospel Music, and Todays R&B, along with forums for mix show DJs, indie labels and artists, A&R development, production/songwriting, and radio programming.
At the center of the Summit are many Panelists and Participants from around the industry who have signed on to share their wealth of knowledge and expertise. These high-ranking executives come from companies like: Universal Music Group, InGrooves Distribution, Capitol Records, Warner Music Group, ASCAP, BMI, Royalty Exchange, Lyric Financial, SESAC, SonyATV Music Publishing, Beats Music, Motown Gospel, the Recording Academy, AEG/Live, Launch Yahoo, Fresh Wire, USB.com, Roc Nation Music, Notting Hill Music Group, the Urban Buzz, Black Entertainment Television (BET), with more panelists, participants and sponsors forthcoming.
Over and over, weve heard the industry clamoring for the Summit to return, says Arthur Mitchell, President of Urban Network Digital. Many of you may remember the days when conferences like BRE, Impact, and Jack the Rapper along with Urban Network were annual must-attend events. They were all important platforms. Urban music industry professionals more than ever need a serious venue beyond just social media to directly network, and discuss important issues. Thats the void Urban Network Digital & Amalgamation Mag are committed to fulfill.
For Sponsorship and Showcase Opportunities, Contact either
Arthur Mitchell: info(at)urbannetworkdigital(dot)com, 480 823-0522 or
David Mitchell: davidm(at)amalgamationmag(dot)com, 424.227.8046
To See More Information Regarding the Summit, visit Urban Network or Amalgamation Mag
Support This Blog By Visiting Sponsor Link regarding PADDy Power :
PADDy Power
To Register, Please Visit:

https://www.eventbrite.com/e/urban-network-digital-amalgamation-mag-music-entertainment-summit-tickets-9873128794
Comments