Associated with Registe-se – Murals by Local Artists Transform NU Hotel Brooklyn Guestrooms
October 27, 2012 · Posted in
General
Murals by local artists have transformed three guestrooms of NU Hotel Brooklyns 93-room hotel as part of the NU Perspectives project. The transformation continues as the hotel searches for three more artists.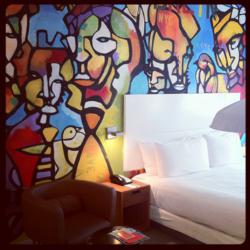 Brooklyn, NY (PRWEB) October 25, 2012
A hotel room with a view of the Manhattan Bridge, the Brooklyn Bridge and the Williamsburg Savings Bank? Thats geographically impossible! Not at NU Hotel Brooklyn, where guests can immerse themselves in the borough when they stay in select guestrooms painted with Brooklyn-themed murals from floor to ceiling.
————————————————
————————————————
As part of the NU Perspectives project, the 93-room boutique hotel has given creative license to three local artists and it is looking for three more artists to liven up the largest guestrooms.
We are so proud of our location and are always looking for ways to celebrate Brooklyn. Having local art on our walls is something the hotel has embraced since the day we opened, said Javier Egipciaco, NU Hotel Brooklyns general manager. Were just taking it a step further this time.
The hotels white walls and loft-like design serve as a blank canvas on which artists can put their signature creations. The murals give the rooms color and an edge, while maintaining a comfortable feel and a uniquely Brooklyn look.
Craig Anthony Miller, whose style is influenced by stained glass and graffiti, was the first artist to participate in the program. Adam Suerte, a legend in the Brooklyn art scene and proprietor of Brooklyn Tattoo, created a mural that depicts three nearby Brooklyn landmarks: the Manhattan Bridge, the Brooklyn Bridge and the Williamsburg Savings Bank. The artist also created a time-lapse video which can be found on his website. The most recent mural was created by another Brooklyn-based artist, Steven Weinberg. Weinbergs mural showcases a Brooklyn streetscape, complete with brownstones, caf
Comments